Crane collapse in Kelowna: A number of individuals have been killed in a second crane collapse in Canada
Zameer Karim / CBC
A crane collapse in Kelowna, British Columbia prompted police to set up a perimeter and evacuate the area.

CNN
–
Four people are dead and one is missing after a crane collapsed on a construction site in Canada Monday, officials said. The collapse comes just days after another crane collapsed in Toronto.
All four deceased have been linked to the construction site and crane company, said Inspector Adam MacIntosh of the Royal Canadian Mounted Police in Kelowna on Tuesday.
One person was not found and is believed to be buried, MacIntosh said because "all information suggests this sadly happened".
The crane was tied to a skyscraper under construction in Kelowna, British Columbia, when it overturned Monday morning and hit an adjacent professional building and the roof of a "retirement home," MacIntosh previously said.
According to MacIntosh, there were some workers on the crane when it collapsed.
The crane was just being dismantled when "something disastrous happened," said MacIntosh. The investigation into the cause is ongoing.
"Yesterday was a tragic day to see all these workers standing there and knowing that they have just lost some of their friends and colleagues, and the families and what they had to do, I can only imagine what they are going through", said MacIntosh.
The collapse site and the surrounding area are unsafe and unstable, MacIntosh said.
The incident prompted the evacuation of the surrounding streets and a local emergency declaration. Crews investigate the cause of the collapse.
British Columbia's Labor Secretary Harry Bains said he was "deeply saddened" by the collapse.
"My thoughts go with the workers affected and I extend my condolences to the families, friends and staff of the victims," ​​Bains said in a statement on Monday.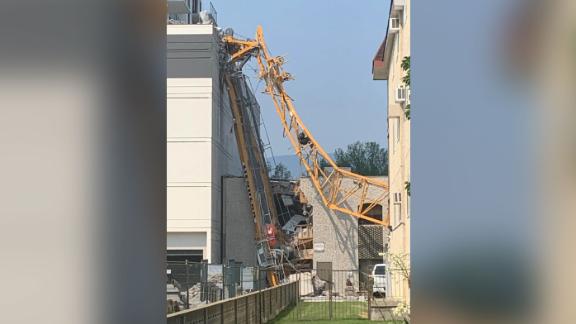 CBC
The area around a construction site in Kelowna, British Columbia where a crane collapsed Monday morning.
"All workers have the right to a safe and healthy workplace – even one injury or one death are too many. This is a heartbreaking reminder that we must strive to keep all workers safe to prevent such incidents, "he added.
Bains said the accident is being investigated by WorkSafeBC, the BC Coroners Service and the RCMP.
MacIntosh said 911 calls regarding the breakdown were received by authorities shortly after 11 a.m.
Several workers were on or near the site when the collapse occurred, he said.
Kelowna is located on Okanagan Lake, about 240 miles west of Vancouver and about 140 miles north of Canada's US border.
The Kelowna crane collapse came just days after part of another crane collapsed on a building in Toronto on Saturday, damaging the roof but not causing any injuries.
The counterweight, part of the crane designed to prevent tipping, was on top of the 8 The Esplanade apartment building after it fell about 6 meters, Toronto Chief Fire District Stephan Powell told CNN.
The top six floors of the condominium are machine rooms used for building maintenance so no residential units have been damaged, Powell said.
The crane was carrying about 20,000 pounds of counterweight, which shifted causing the crane to tip over, Toronto Fire train chief Kevin Shaw told CNN news partner CTV News.
"This crane collapses [caused] a small structural damage to the roof area but no harm to the floors below, tenants or anything and never got into an apartment, "Shaw told CTV.
CNN reached out to Del Property Management, which owns 8 The Esplanade, for a comment.
CNN's Paula Newton and Kay Jones contributed to this report.